I'm not an artist nor an illustrator, yes-I know those are synonymous, but I like to think I'm artsy. I enjoy doodling around and digitally scrapbooking and I can craft with the best of them. Toss me some pom poms and tongue depressors, I'll make you a tea cozy.
This blog is a template created by an artist. The color palette and flowered swirls at the top are not my creation, but the rest of the header is. Someday I may overhaul the graphics here and design the full page myself. However, I did create all of the graphics on my sister's website All Dogs Go To Brenda.
Well, Sister#1 decided to 'go mobile' as in become a mobile groomer. She ordered a grooming trailer and needed graphics for it. She called me.
I designed all the elements. The trailer graphic guy arranged them except for this side, I got to arrange it;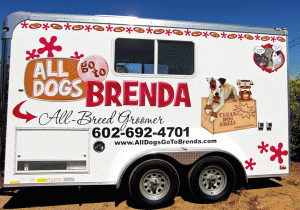 Here is the other side, I love the spectacled dog on the door. By the way, the pup is the Mighty Fergus McFlee and he owns my sister. When Fergus and I get together, destruction occurs. I <3 Fergus!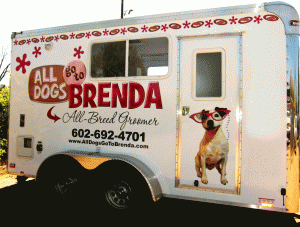 This is the back and what you would see if you were driving behind it;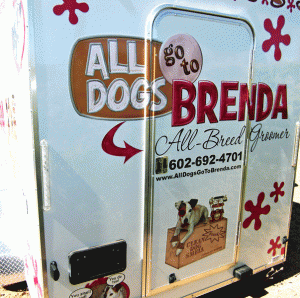 I also design her mailer ad coupons. Here is the one going out this month;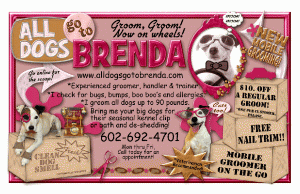 If you need a mobile groomer in North Phoenix, AZ-now you know who you can call and Sister#1 will be at your door scissors and blower in hand. But I wanted to show you some of the other things I like to do. I think creativity informs creativity, this all fuels my writing brain too. Brain food is good stuff.